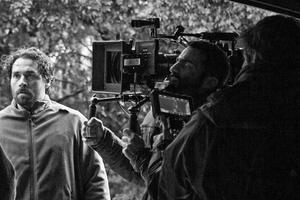 Aurélien Marra, by Laurent Chalet, AFC
I vividly remember the first time I met Aurélien, who was a student at La Fémis' Image department at the time. I was running a workshop on documentary filming at the invitation of Jean-Jacques Bouhon.
I remember what he had to say and his questions about the place and role of the cameraman, and his preponderant influence on the story arc and the aesthetic of the film in this particular setup.
This was proof of how acutely aware Aurélien is of the essential aspects of our profession, which go far beyond the simple technical mastery of our equipment.
As soon as he graduated from La Fémis, Aurélien shot several short films, and his work won recognition in various international film festivals.
More recently, the great sensitivity and mastery he displayed through his work on Deux, a film by Filippo Meneghetti, caught the attention of the Camerimage jury in 2020 and of the ASC Awards in 2021.
Aurélien is a talented cinematographer and a knowledgeable cinephile who makes daring choices on the films he has decided to work on.
I am sure that Aurélien will be at home in the AFC.
Aurélien Marra, by Denis Lenoir, AFC, ASC, ASK
I met Aurélien at the ASC Awards last spring. We began to chat (virtually, as the entire ceremony that followed was online), and our shared status as Francophones was an excuse to begin talking and it also created a bond between us. I wasn't aware at the time that he was in attendance because he had been nominated for the Spotlight Award – I immediately found him extremely pleasant. A few hours later, he won that prestigious award and I sincerely congratulated him and promised him to watch the film that had earned him this honor.
Before watching his work, I was already thinking he should become a member ; I was considering his maturity, what he had to say about the cinema and the profession at his young age, and of course, the international recognition he was acquiring thanks to the "Best Cinematography Debut" at Camerimage in 2020 followed by the Spotlight Award. Everything seemed to me to indicate that path. Then, I watched Deux, and I understood, I understood why his work had won these awards and I also understood why I had been able to speak to him as I would speak to a more experienced colleague. His work was remarkable, yet fine and subtle, it was never flashy nor in-your-face, but rather always sensitively struck the right note.
Aurélien is very excited to join us and to play an active part in our association, and I believe that he has his rightful place amongst us.
One might object that he hasn't yet worked on many feature films – Deux was only his second – but he has shot three since then, for a total of five to date, which means he has met all of the requisite criteria.
The thumbnail image shows Aurélien Marra, camera on the shoulder, shooting Garder ton nom, by Vincent Duquesne, in 2019 – Photo Dan Pesah